One of the rare times I'm ranting here. Allow me because there is FIERY ANGER within me!
Anyone who lives in Singapore go grab a copy of U-mag and flip to page 24-25.
The feature is [2008 Summer 10 Japanese Dramas].
As anticipated, there is MAOU. Translated that portion loosely here:
"When the Korean version of Maou was broadcasted, the drama did not get high ratings due to various affecting reasons, but the cast received rave reviews for their performance. As for this Japanese adaption, it focuses on popularity fights for the two leads, namely Ohno Satoshi and Ikuta Toma.
Unfortunately for local fans, I believe that Ohno Satoshi, in terms of looks and popularity, is not only no match for Toma, he also falls way behind the Korean leading man.
The female lead (casted as the girl who has supernatural powers), other than being more skinny and frail, is also not up to the Korean female lead's standards."
And she gave Maou a watchability rate of 3 Stars ★★★. The lowest in the 10 dramas.
.............. ヽ(`Д´)ノヽ(`Д´)ノヽ(`Д´)ノ
Sigh.. this same reporter... She's always been biased ne?
From her past articles... Had already sensed she's Yamapi and Toma fan.
Besides using very old photos of Arashi and Kattun as compared to her very new updated photos for Yama, she almost certainly features Yama in most of her features, and writes fantastic stuff about him.
I didn't mind it then because I enjoy seeing fans care for their idols (therefore slight biasness is understandable).. but now....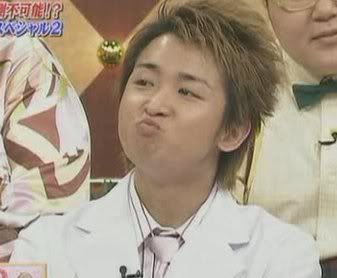 POOR OH-CHAN!! (+kawaii + kakkoii)